SOPHIE TURNER'S STYLE AT THE SEASON SEVEN GAME OF THRONES PREMIERE
The 21 year old English actress,popularly known as Sansa Stark in the HBO fantasy television series Game of Thrones joined her fellow co-stars Gwendoline Christie and Maisie Williams at the season seven GOT premiere wearing a Louis Vuitton dress.
Her dress was silver in color and showed her beautiful long legs with a free loose hand .The gown truly symbolizes how confident she is especially when under the spotlight.
Th
e Northampton-born star's creative director Nicolas Ghesquiere exclusively started dressing Sophie in his punk-influenced designs after inviting her to the spring/summer 2017 show that was held in October 2016.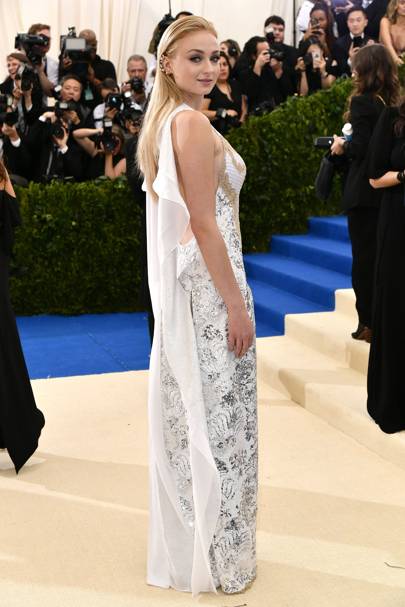 The actress looked so marvelous while rocking the Ghesquiere's collection for Louis Vuitton.Every accessory that is the metallic chain, buckle nods and studs to the medieval dress of her character, Sansa Stark, displaying her elegance and confidence and hence a real boost to her career.
In summary she looked absolutely gorgeous at the new season premiere of the HBO fantasy drama. It saddens most fans that this would be the season finale of the 'Game of Thrones'.
You can share your views about this article in the comment box below and don't forget to follow us up on our social media have an awesome day.